Industrial equipment production can not be separated from industrial cooling fan, which is mainly used for heat dissipation, cooling and dust removal of various sizes of equipment. The general production environment of industrial equipment is relatively harsh. In order not to reduce the service life of the industrial cooling fan, they will do some treatment for the fan. The more common is anti-corrosion measures. Last time, the cooling fan manufacturer, Yirongchuan Electronics also introduced four types of AC cooling fan operation modes. Today, Xiaobian will introduce how to prevent the corrosion of industrial cooling fans.

Appearance treatment of industrial cooling fan:The surface protection of cooling fan is usually carried out by means of zinc plating, chromium plating, chemical plating, etc. These methods are effective in many environments, but for rotating parts, you must be careful to choose them, because the substrate and coating are two kinds of materials, and their linear expansion coefficients are different, which will produce different deformation in the elastic deformation of rotating parts, produce a large number of microcracks, and accelerate the formation of corrosion. Therefore, appropriate materials and processes must be selected according to the actual use environment.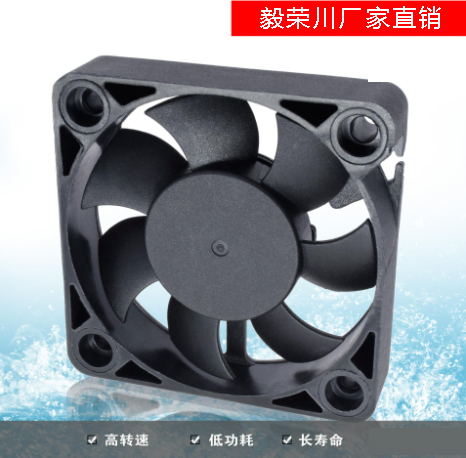 Design of industrial cooling fan:The design of the cooling fan is the performance of its core technology, which affects the service life of the fan and ensures the safety of the fan. In the structural design of cooling fan, the most common design defects of accelerated corrosion are stress concentration trend and clearance environment. Sometimes the corrosion rate in the metal immersion solution is very low, but due to the changes in the chemical state and electrochemical state of the internal solution, the formation of gaps will cause serious crevice corrosion, which requires careful design.
Industrial cooling fan material:Different cooling fans are made of different materials and have different anti-corrosion effects. After the cooling fan model is selected, the strength of components shall be determined from the foundation surface according to the corrosion resistance of different materials in different environments, main application environments, working strength and other factors. From the perspective of the material itself, the target is safe.
So much is said about how to prevent the corrosion of the cooling fan. The anti-corrosion effect of the cooling fan can maintain the beauty of the fan, reduce environmental pollution, effectively extend the service life of the fan, and save equipment costs for the enterprise. You need to be careful when selecting and purchasing the cooling fan.