What are the six functions of Yi Rongchuan cooling fan?
Company News| 2022-10-25|毅荣川电子
Soft start function:When supplying power to the fan, the current will gradually increase from zero until the fan reaches the maximum speed and rated current. The maximum start is equal to the free running current, and the fan will reach the rated speed within the specified time (5) seconds.

Self-starting function:Lock protection and limit current restart. The function of self-starting is to ensure that the fan motor automatically restarts. In the case of fan blade blockage and rotor locking, the fan current drops to zero, and the fan automatically restarts after 5 seconds.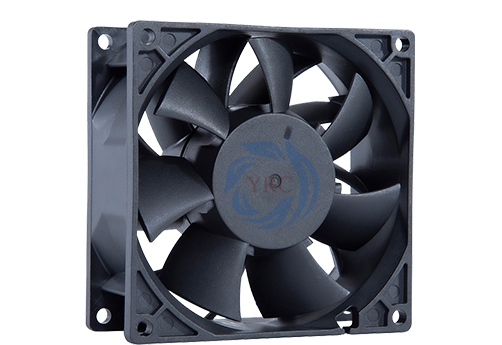 FG speed detection function:It is equivalent to a frequency generator or output tachometer. This is an open collector output connected with a pull-up resistor and a compatible reading device input power supply voltage. This output provides a square wave signal (such as a - L input to a computer). The maximum collector voltage may be as high as 72 V DC and the maximum collector current 10 MAA. The power supply of the reading equipment must have the same grounding potential as the fan.
RD rotation detection function:This is a collector open circuit function, similar to the FG hardware function. There are two situations: the signal pin of the Class A fan outputs low level when it is running, and the signal pin outputs high level when the fan is blocked. The signal pin output of Class B fan is high level when it is running, and low level when it is stopped when the fan is blocked.
PWM pulse width control function:The PWM function can use frequency and high and low voltage levels to control the fan speed. The fan speed can be controlled linearly by adjusting the duty cycle. PWM speed regulation is generally controlled by four-wire system, and PWM RD signal function is mostly used at present.
Automatic temperature control function:The speed of the fan is controlled by temperature, and different temperatures can correspond to different speeds.
If you want to knowCooling fanFor knowledge Q&A and solutions, please search "Shenzhen Yirongchuan Electronics", where there are rich Q&A of cooling fans to share with you.