The length of service life of any product is closely related to the cost of a product. If the service life of a product is longer, the average cost per day will be lower. In contrast, a product can't be used in a few days, not only the daily cost will be higher, but also the progress of equipment production will be affected. Secondly, the service life of the product is not only related to the time and cost of customers, but also related to the strength and image of our company. If a company can develop high-quality and long-life products, its strength cannot be underestimated.
SoCooling fanFor example, as the backbone of the industry, the service life of Yirongchuan cooling fan can reach 70000 hours, which is also the envy of countless peers. This time also shows the heat dissipation effect of Yirongchuan products, and also saves costs for customers. This is also the key for customers to choose Yirongchuan because of its stable operation and high cost performance. Now let's see how Yirongchuan did it?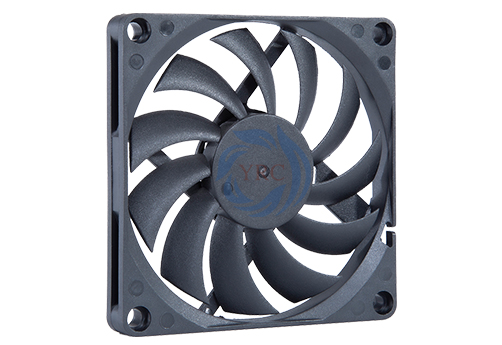 Strictly control raw materials: I believe everyone knows that the quality of a product depends on the raw materials of the product. In order to ensure product quality, Yirongchuan selects imported raw materials of international environmental protection standards with stable quality. In addition, in the production process, he never cuts corners on work and materials, adheres to the spirit of craftsman, and aims to achieve zero defects and bring customers products beyond expectations.
Innovative production technology: the level of research and development and production technology plays a crucial role in the quality of products, otherwise even if high-quality raw materials are used, the production technology is not up to standard, and the product quality and practical life are still difficult to guarantee. The company has an excellent R&D team, which has continuously improved the quality and stability of products for more than 17 years, introduced new products, improved processes, optimized production processes, and improved performance. It is committed to providing product supporting services for household electrical equipment, office equipment, aerospace industry, auto parts, ventilation system, mechanical equipment, communication equipment and other industries.
Strict test procedures: In order to ensure the product quality and service life, the cooling fans of Yirongchuan have to go through multiple test procedures and reliability tests. At present, the company has air volume, air pressure tester, silent room and motor multi-function tester, which can make accurate and reliable measurement for the development of finished products and new products, and ensure product functions. In addition, according to the requirements of reliability and service life, TMEM conducts 15 specified tests on all products, such as temperature rise, high and low temperature tests at the development stage and batch production stage, to ensure the reliability of products.
After the above analysis, I believe everyone has understood that it starts from the control of raw materials of products. With continuous innovation in production technology and strict testing procedures, the service life of 70000 hours can be reached. If you want to choose cooling fan products or customized cooling solutions, Yirongchuan is your best choice.