What are the direct factors that affect the life of DC cooling fan?
Heat dissipation knowledge| 2022-10-17|毅荣川电子
Cooling fanIt has a certain service life. We talked about how to select the cooling fan last time. Choosing a good cooling fan is one of the ways to prolong the service life. When we use it later, it will also affect the service life of the fan. The performance and various requirements of our commonly used DC cooling fans are in line with the requirements of our use when they leave the factory. However, as we use them for a long time, there are some factors that affect the cooling effect of the cooling fans. The following are the most direct factors that affect the cooling results.
1. Whether the DC cooling fan is installed correctly. Generally, the DC cooling fan is fixed on the equipment with four screws. If the installation torque of the four corners is different, the rack will be deformed or loose. The uneven installation position of the equipment will also lead to the uneven stress of the fan frame, which will make the DC cooling fan frame and fan blade lost in the best state when leaving the factory, and the long-term operation will affect the bearing life and increase the noise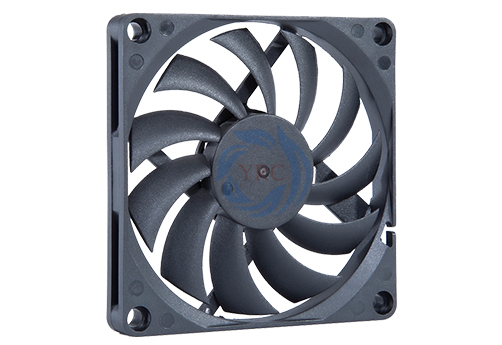 2. Working in a harsh environment for a long time, there are too many dust and impurities in the air in the working environment, and a large amount of dust has accumulated on the fan blade and frame for many years, which not only increases the working pressure, but also reduces the rotation speed of the DC cooling fan, followed by dust sticking to the fan blade will also affect the direction of the air duct, reduce the exhaust air volume, and the temperature of the working environment, such as exceeding the specified working environment temperature for a long time, It will accelerate aging.
4. The aging of internal electronic components is aggravated by the carrying environment problems, rated parameters of fans, unstable power supply voltage and long-term overload operation.
With 17 years of fan R&D experience of the manufacturer of Yirongchuan cooling fan, it is concluded that the factors affecting the cooling effect of the DC cooling fan are no more than incorrect installation, poor operating environment and unstable power supply. Therefore, the above factors are constantly updated iteratively. The design of the fan blade reduces the dust hanging on it, and the use of better frame fan blade material allows small installation errors. The new circuit design makes the fan have stronger anti-surge performance.